Quick Response messages are short, templated responses of common phrases that can be used to quickly respond to an email. Designed to help you save time, pre-populated Quick Response messages can be accessed with one tap of the lightning bolt in the Reply menu at the bottom of a message screen. Swipe left and right to choose from the most commonly-used phrases.
1. Tap the Quick Reply area at the bottom of the screen.
2. Tap the lightning bolt icon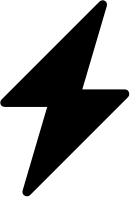 to bring up the Quick Response menu.
3. Swipe left and right to find the message that meets your needs.
4. Tap your selection.
5. Tap the Send icon

.